The UCL Swift fusion splice-on connector is field installable and provides easy quick, reliable, permanent field terminations.
They provide a higher quality and performance than that of mechanical field installable types of connectors and are easily aligned and spliced using fusion splicers to terminate any fibre cable.
The splice point is protected with a heat shrink protection sleeve and is located in the connector body. This reduces service delivery / installation time and MTTR by ensuring a good connection without the fibre being damaged within the connector.
The fusion splice-on connector (FSOC) is a quick, easy and reliable solution for the last mile of FTTH (Fiber to the Home) and data centre applications. Deployment of the splice on connector eliminates excess cable length and reduces the cable management footprint needed as there is no requirement for fibre splice trays to be installed.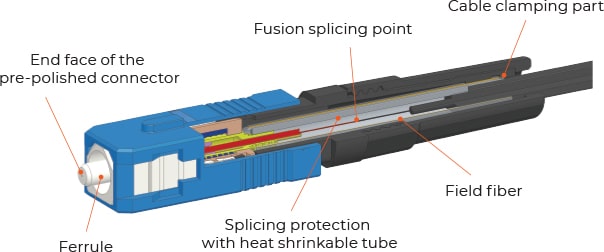 The typical loss of the physical contact mated in the adapter is as low as 0.1 dB. Fusion splicing attenuation is typically 0.02 dB, and maximum is 0.05 dB. Therefore total expected loss is in the range of 0.12 dB to 0.15 dB.
Expected return loss is over 55dB (UPC) and over 60dB (APC) respectively. It can be adapted to analog networks (≥55dB) with no signal interference and no noise.
IPAAS Core, Fixed V-groove and Active clad alignment is possible. Most importantly, fibre angles and cleaved fibre ends can be seen on the fusion splicer while splicing and the splicing point can be protected with heat shrinkable tubes.